The SMOK Stick V8 Baby measures 22mm in diameter and 83mm in height, featuring a slim and portable form factor within a well-constructed chassis offered in a wide array of vibrant colors. The device is charged via microUSB port, with intelligent battery indicators with blinking LED lights for the 2000mAh enclosed battery.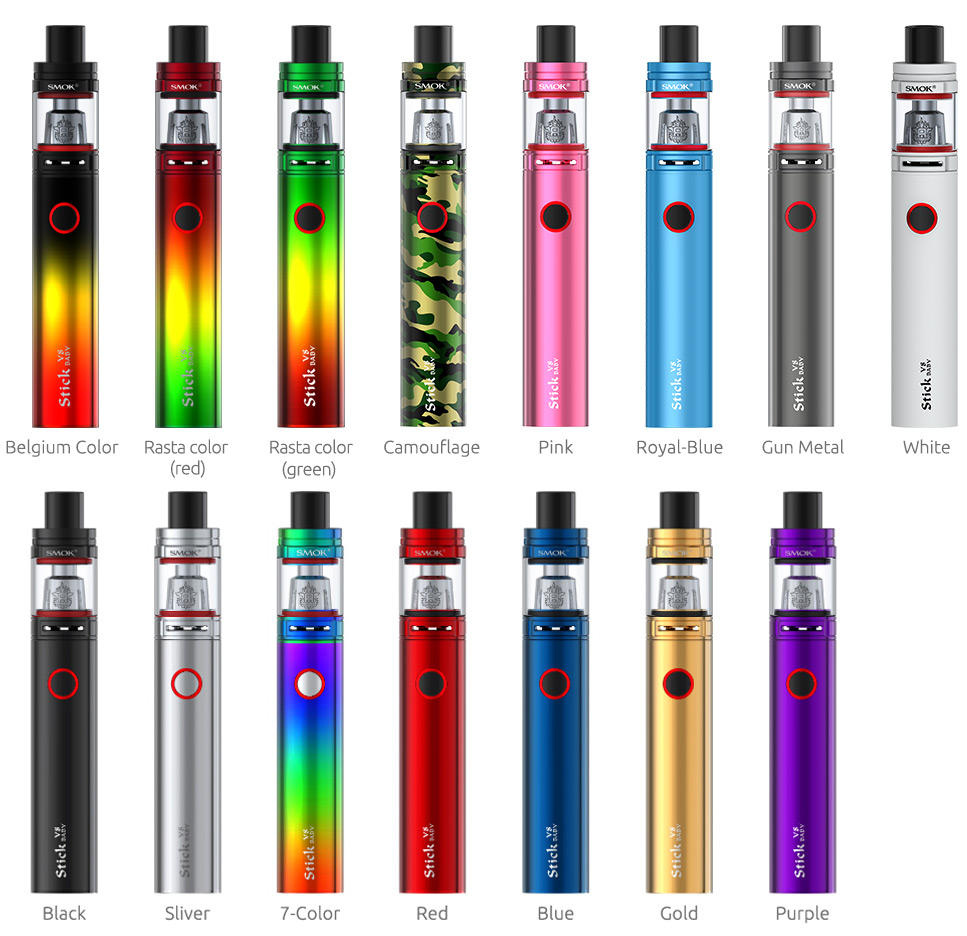 Operationally, the SMOK Stick V8 Baby implements a single button firing mechanism to enable a "smart" mechanical method, in which output power correlates to the current state of battery while implementing multitudes of satefy protection. Included in each set is the TFV8 Baby Beast Tank, featuring a well-balanced dynamic range with 3mL juice reservoir, precision airflow control, signature hinged top-fill system, and utilizes the new Baby Turbo Engines coil structure.
Each kit includes the new 0.15ohm and 0.25ohm Baby-M2 Coil Head, specifically made for the SMOK Stick V8 Cloud Beast Kit and the Stick V8 Baby Kit. Entering the market with one of the most dynamic pen-style starter kit paired with the wildly popular TFV8 Baby Beast Tank, the Stick V8 Baby Starter Kit by SMOK is one of the leading plug-and-play platform in the industry.
SMOK Stick V8 Baby Battery Features:

22mm Diameter
83mm Height
Integrated 2000mAh Battery
Stainless Steel Construction
Direct Voltage Output System – 'Smart' Mechanical-Style
Operating Voltage Range: 3.4-4.2V
Single Button Operation
Intelligent Battery Life Indicator
8 Seconds Protection
Low Resistance Protection
Short Circuit Protection
Low Voltage Protection
MicroUSB Charging Port – Passthrough Capability
510 Connection
Available in Black, Silver, Red, Blue, Gold, Purple, Rainbow (7-Color), Belgium, Rasta, Army, Carbon Fiber Edition
SMOK TFV8 Baby Beast Tank Features:

22mm Diameter
3mL Juice Capacity
Superior Stainless Steel Construction
High-Grade Glass Reinforcement
Convenient Top-Fill Design with Hinge Lock
Dual Adjustable Airflow Control at Base
Black Delrin Ultra-Wide Drip Tip
Patented Baby Turbo Engines Coil Structure
0.15ohm V8 Baby-M2 Dual Coil
0.25ohm V8 Baby-M2 Dual Coil
510 Connection
Includes:

1 Stick V8 Baby 2000mAh Battety
1 TFV8 Baby Beast
1 0.15ohm V8 Baby-M2 Dual Core
1 0.25ohm V8 Baby-M2 Dual Core
1 MicroUSB Cable
Instructional Manual