Smok RPM80 Pro Pod Mod Kit
Smok RPM80 Pro Pod Mod Kit:
With the cuboid-shaped design and intuitive resin material cover, comfortable to grip and with quality looks. adopts the 0.96-inch colourful display and the concise and informative user interface for the carefree vaping experience.
RPM80 series is our next game changer in the pod mod category.
RPM80 PRO comes with two pods and two coils
This is compatible with all RPM40 coils, and the other one is the RPM80 RGC Pod, which is airflow adjustable and uses the new RGC Conical Mesh 0.17ohm coil that supports the power as high as 80watts!
Stay tuned for this real game changer!
Innovation keeps changing the vaping experience!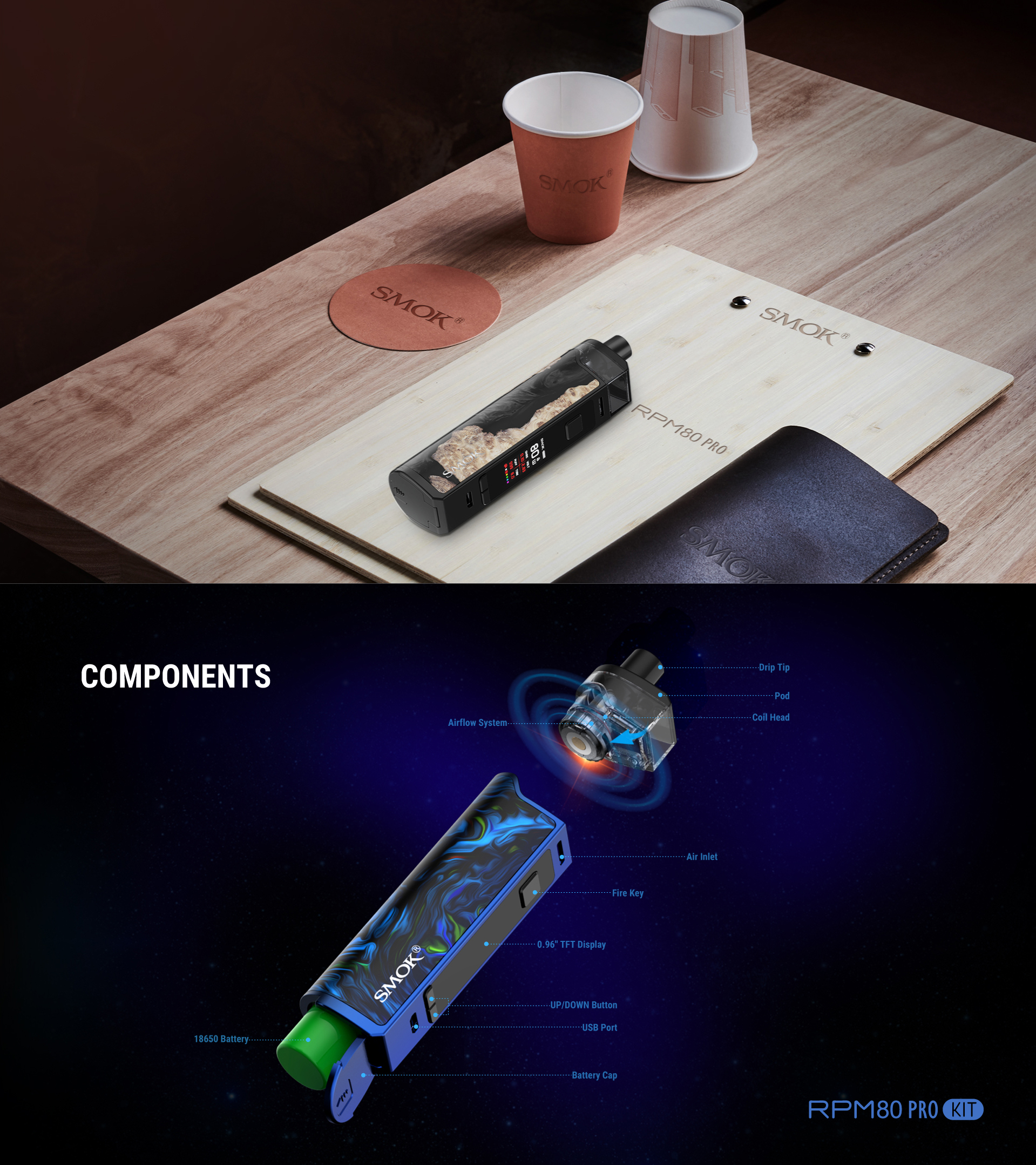 The Smok Device with the newest IQ-80 chipset offers a variety of intelligent features and functional protections. This allows the RPM 80 to fire up to 80W. You can press the Up and Down buttons to adjust the working wattage to get the preferred effect. The fast charging system allows the battery will be fully charged in a short time.
There are two Pods available:
The RPM Pod and RGC Pod. both of them can hold 5ml e-juice. The RPM Pod compatible with all RPM Coils to maximize coil compatibility and meet diverse vaping needs. The RPM80 RGC Pod is Smok first Pod with the adjustable airflow design, the adjustable airflow ring at the bottom can be rotated to adjust the intake freely.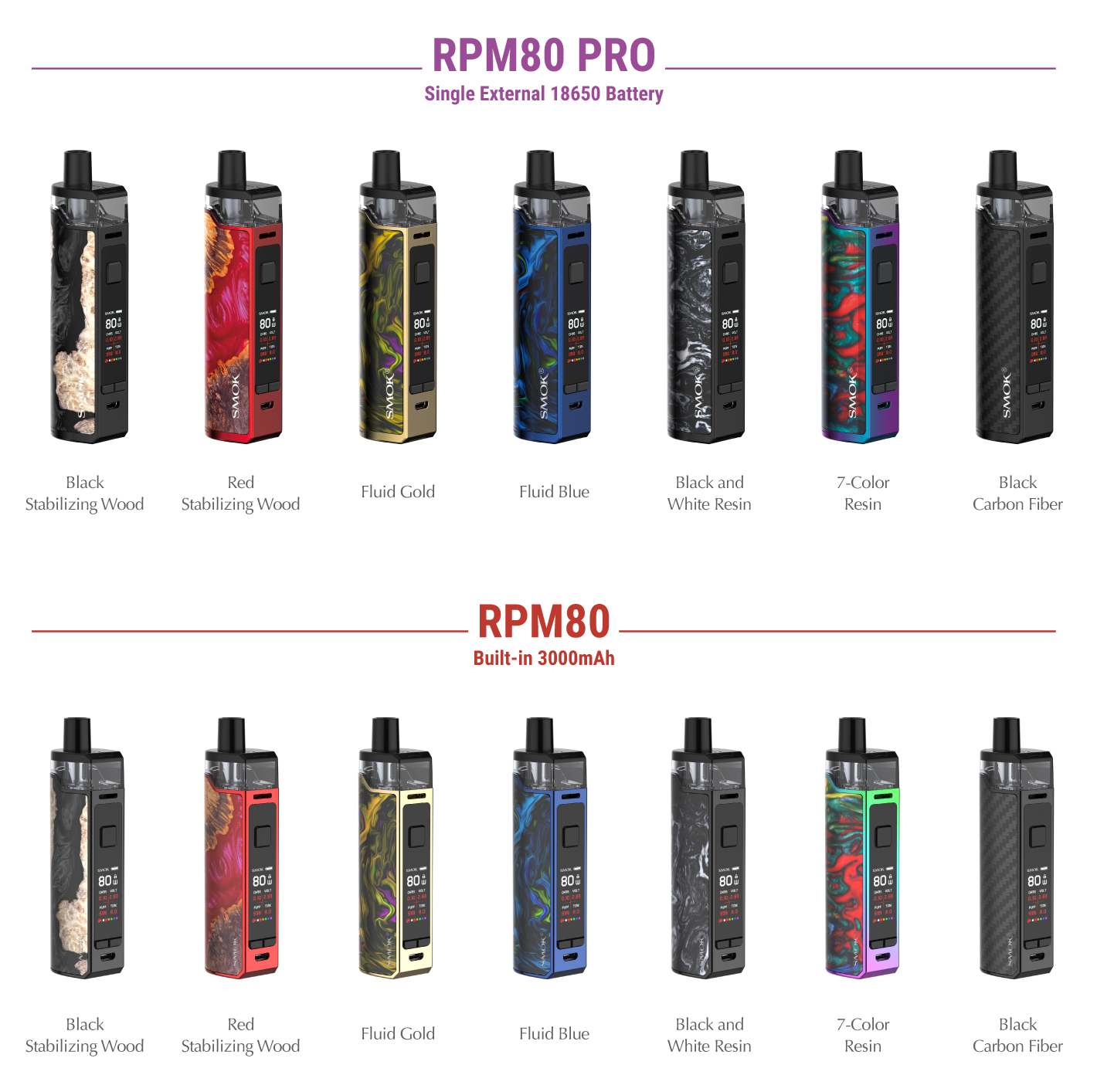 There are two new Coils available:
The RGC Conical Mesh Coil and RGC RBA. the RGC Conical Mesh Coil powered by nexMesh technology. Designed for the powerful, warm throat hit with massive vapor and amazing flavour.
The unique conical structure can maximize the bottom of the airflow inlet and condense the vapor as it flows through the coil to the drip tip. Creating an unparalleled burst of flavour. you can purchase the RGC RBA separately. Which designed to help you and your individual vaping style.
SMOK RPM80 PRO Pod Mod Kit Features:
Dimensions – 118mm by 31.9mm by 26mm
Single High-Amp 18650 Battery
Wattage Output Range: 1-80W
Voltage Output Range: 0.5-4.0V
Resistance Range: 0.1-2.5ohm
Wattage Mode
Zinc-Alloy Chassis Construction
Intuitive Firing Button
0.96″ OLED Display Screen
Two Adjustment Buttons
Bottom Hinged Battery Door
SMOK RPM and RGC Pod & Coil Series
Side Refill System – Silicone Stoppered
5mL Refillable RPM80 Pod
0.4ohm RPM Mesh Coil
5mL RPM80 RGC Pod
0.17ohm RGC Conical Mesh Coil – rated for
0.5-1.0ohm RGC RBA Coil – Coming Soon
Plug 'n' Play Coil Installation
Adjustable Airflow Control
Magnetic Pod Connection
Low Battery Protection
Short-Circuit Protection
10S Cut-Off Protection
Over-heating Protection
Intelligent Atomizer Recognization
Puff Monitoring System
Bottom Micro USB Type-C Port
Includes: (RPM 80 Pro Version)
RPM80 Pro Device x 1
RPM80 RPM Pod With RPM Mesh Coil 0.4ohm x 1
RPM80 RGC Pod With 0.17ohm Conical Mesh Coil x 1
USB Cable x 1
User Manual x 1